From the monthly archives: June 2011
Cestrian is the electro alter ego of Ali Renault. Inbetween squeezing out disco belters on labels such as Moustache Records and Dissident, he finds time to indulge in dark fantasies. Having unleashed this darker side on Glasgow's MNX Records, Solar One, Bunker and his own Human Sheild Recordings, he puts out his latest work through Perseus Traxx's label Future Flash, with Perseus himself delivering the remix straight after.
Cestrian's original is a powerful, strong electro track. Driving hard, the bassline powers this track through. Eerie strings placate any feeling of safety you had and analogue hi's melt your mind as this tracks jumps from section to section. One for those late night trips, urban exploring down your local abandoned asylum.
Playing on the same dark themes, Persues Traxx's remix utilises those eerie strings and synth wails and plays it over an acid 101 style bass line. This track feels filled with more soft emotion than the original. A 707 jam that builds throughout and cuts deep into Cestrian's cold, dark heart.
This release follows nicely on from Future Flash 001′s hard hitting style. Cestrian belts it out strong for those who can handle it and Perseus Traxx softens the blow for the faint hearted with a very nice remix. Don't listen with the lights off.
A1 Cestrian – Annihilator
A2 Cestrian – Annihilator (Perseus Remix)
Classic Mix: Meschi and The Textbook Lover Raid The Bentos Vaults
by

Meschi

on

June 27, 2011 · 46 Comments
Recorded last year this three hour mix blends house, italo, disco, electro and techno into what can only be described as get yer arse out of that seat and shake it music. Plain and simple… this'll get you movin!
Download
Mother hits us with another belter with tracks from LFO, Luke Hess, Africa HiTech and more.
Download
01. Luke Hess – Agape Dub (Modelisme Records)
02. SCB – Hard Boiled VIP (SCB)
03. LFO – Probe (The Cuba Edit) (Warp)
04. T'N'I – Nothing Can Stop Us Now (Force Inc.)
05. Meschi – East Coast Way (Lunar Disko)
06. Moodymann – Freeki Mutha Fucker (Egyptian Lover Remix) (Mahogani Music)
07. Africa Hitech – Out In The Streets (Warp)
08. Aquanauts – Zilla Beatz (Underground Resistance)
09. Addison Groove – It's Got Me (3024)
10. Omar S – Boot Hill (FXHE)
11. Egyptian Lover – You're So Fine (Egyptian Empire)
12. DJ Crash – He Is DJ Crash (Strictly Bizness)
13. Unique 3 – Weight For The Bass (3 Ton Mix) (Ten Records)
14. Steve Poindexter – Computer Madness (Trax Records)
15. Specter – Pipe Bomb (Sound Signature)
16. Kassem Mosse – Untitled (Workshop)
Tagged with: africa hitech • ifm • lfo • Luke Hess • meschi • mother • Our House Radio

The latest outing on Crème's JAK series comes from an unknown UK house producer that's shrouded in mystery. And although we know next to nothing about Myriadd, his record is packed with a collection of tracks that continue to channel the rhythmical embodiment of Chicago – throbbing bass-lines, short, sharp 303 modulations and that crisp 707 percussion – through contemporary production techniques, producing music that sounds both vintage and evolutionary.
The opening tune, 'Beyond This Life', glistens with gold flecked pads that fall from deep space, acting as the canvas on which this track is painted. All the other parts compliment it perfectly, creating a complete painting of interesting, deep house which exudes warmth and vibrancy.
'A Hazy Memory' takes us on a minor departure from 'Beyond', dropping you straight into a reverb drenched dance-floor, where your only concern is the mind altering acid-attack that appears to be slowly emerging from a beat packed with the lifeblood of quality music.
Likewise 'Keep On Searching' submerges listeners in an aquatic landscape full of warm undulations and funk-speckled synth-licks that slowly merge and change, accompanied by subtle vocal mutterings and staccato pads that are in a constant battle to break through the fluid patterns that drive the rhythm. 'The Outer Limits' takes us from sea to land with a solid kick drum and ominous bass line carrying us along a path littered with angelic stabs, soulful melody and choppy percussion.
Every track on the E.P continues to perpetuate the theme of records you could hear both on the dance-floor and in the bedroom, marrying the elements that keep a club moving with those that keep music enthusiasts interested.
The result is a release consisting of interesting and contemporary house masterpieces built on top of the key elements that made the music great in the first place.
A1 – Beyond this life
A2 – A hazy memory
B1 – Keep on searching
B2 – The outer limits
Tagged with: Creme • Frank Mitchell • Jak • Myriadd •
Reviews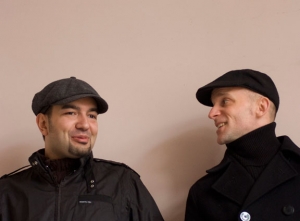 Check out our man Neville Watson's superb Dancity Mix over on Mixcloud. Recorded especially for Italy's Dancity Festival, where he and KiNK will be playing live and jacking Foligno to within an inch of their lives. This superb mix features tracks from I:Cube, Photonz, Semtek and Meschi!
Listen here
Tagged with: Dancity Festival • KiNK • meschi • neville watson • Semtek

Download
01. Muslimgauze – Abu Nidal (Limited Additions) 02. Jackee – A Salvation (Unreleased) 03. Brian Eno – Prophecy Theme (Polydor) 04. Deux – Game and Performance (Minimal Wave) 05. A Certain Ratio – Shack Up (Creation Records) 06. Visage – Searching (Polydor) 07. Can – Spray (Spoon) 08. Brian Eno – Lesser Heaven (Warp) 09. Koova – Isolation (Unreleased) 10. Steve Reich – Nagoya Marimba (Nonesuch) 11. The Otherside feat. Musa K – Baby Face (Signals MMX)
Tagged with: Our House Radio

Ron Trent needs no introduction. Recorded in 2006 at the Detroit Electronic Music Festival, Ron takes us on a two hour trip through house music's outer limits and inner circle. Best enjoyed in the sun, with a beer and a  BBQ, whilst dreaming of being there and listening live.
Download
Tagged with: Classic Mix • DEMF • Ron Trent

Monicker, resident VJ over at www.mntothat.com has made this excellent video for 'Raining In Here'. A track thats been freshly released on my debut record, the Shifting Harbour EP, on Lunar Disko Records.
Tagged with: lunar disko • meschi • MNtothat • shifting harbour • Video

KW a.k.a. Kris Wadsworth has been putting out music for about 6 years now. Generally I've always dug his output, but his recent releases are really what needs shouting about. His 'Escape From 48201 EP' last year and his 'A Sexual Position' EP on Morris / Audio are great pieces and there seems to be no sign of changing ways with his latest output on London's BOE Recordings.
KW's opener 'Undergrowth' is a classic Detroit house sound. A punchy kick drum and classic Detroit pads hitting the offbeat get this track off to a great start. Sucking you in and squeezing you through slowly expanding drum patterns and organic synth sounds. Halfway through, and just when you've been sucked into the groove, KW builds with high placed strings and pushes this track into real dancefloor realms. This is a late night, deep house groove and one that proves slowly evolving house can be interesting, whilst being beautiful.
A2 follows this with 'Project 3′. Meandering, smooth and altogether laid back. Project 3 is packed with emotion. A high, drawn out pad fills the background as organ stabs play in the front. KW smoothly moves this track through its paces, organ stabs question and answer each other on the bass and treble. Serious Detroit deepness.
On the flip side, KW reflects on his 'Detroit to London' connection. Deep as dustbins, this jazzy house piece builds with a really nice trumpet line that delicately answers low strings. This is built upon by smooth sax licks and a brass section that starts flowing so naturally. Basement jazz for the connoisseur.
Finally, closing up the EP is 'Needs', a particular favourite of mine. A stripped down beat flows into anticipation with the help of "Wanna hear that shit", followed by the right answer… "Please". This advances into lovely synth lines reminscent of John Roberts, but with a Detroit edge. This track, in equal measures, gets deeper and funkier throughout. I can't stop listening to this one!
Over the last four years, BOE have been putting out some of the best, modern deep house and techno. They show no sign of letting up when it comes to this quality. KW has released an excellent EP with depth and clarity and long may BOE continue their great judgement when it comes to releasing quality records.
KW – Undergrowth
KW – Needs
Tagged with: BOE Recordings • Kris Wadsworth • Review

The title, the design, the fact it's on Sound Signature. Everything about this release is appealing before stylus is even put to wax. There'll surely be a few cats wondering whether Spekter is actually the Specter. Well I can confirm from the man himself that it is indeed he, the K apparently being a typo on the record. As most visitors here may know, Specter's repertoire of deep sonics has spread itself over a number of formidable underground labels, namely Chicago's Tetrode and Patrice Scott's Sistrum Recordings. Excellent as they are, none of those releases carries the ominous intent of "Pipe Bomb" however.
"Pipe bombs concentrate pressure and release it suddenly". This is the sound of that process slowed down to a crawl and played out over 7 Minutes and 6 seconds, a marked departure from the ever-brilliant off-kilter funk we've come to expect from Sound Signature. Here, Chicago-esque claps hit like shrapnel and gaseous synths and cosmic bleeps combine to make for a disorientating listening experience not unlike that of the hairier output of TnT. If you could imagine what Phuture would sound like had they been influenced by early Cluster and industrial machinery, then you might come close. Underpinning the track is an almost military bass and snare combo, marching through decimated streets to the end of the line, and ultimately keeping it back from the brink of becoming a beatless cosmic-synth epic.
Being the slab of heavy Kosmiche House it is, "Pipe Bomb" will be met with a large question mark for most DJ's when considering to pack it in with the rest of their records before heading out the door to play. Then again, most DJ's need to take more chances. If activated at the right time, this record has more than enough capacity to do the damage it promises to, and over time will be something that demands to be revisited when the need takes you. Which it will.
Specter – Pipe Bomb
Follow Us

Mailing List

Email Address:

Friends

Abstract Acid
Black Lung
Cyber Dance Records
Dream Machine
Hipodrome
Infinite State Machine
Intergalactic FM
Lunar Disko Records
MOS Recordings
Playdoh
Robots For Robots
Rub a Dub Record Shop
Rush Hour NL
SignalsMMX
Snuff Trax
Tabernacle Records
Tribute Glasgow